For far too
long, telecommunications has been regarded as something for someone else to worry about. It's been the province of tool-belt-wearing everymen or white-smocked eggheads in corporate research parks. The rest of us have taken it for granted.
Rising Static With Telecoms
Survey respondents express confusion about industry direction, and follow-up interviews indicate that alignment with partners receives only a mediocre rating.

N= 207 respondents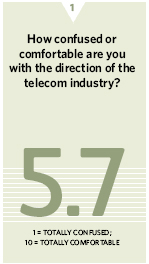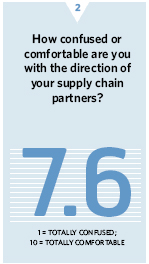 But the end to widespread telco ignorance is fast approaching. Steve Russell, the former CIO at Christie's auction house in New York City, believes that telecom is "the first place to look for cost reductions" as well as an area overdue for greater IT attention. To paraphrase Russell, telecom competence is the most important area for CIO decisions regarding cost, innovation and risk management.
In a world where bandwidth is abundant and device choice near infinite, standards are in a state of flux, and consumer behavior shows little consensus. Confusion about the industry is rampant, especially in the short term.
In this month's CIO Habitat survey, we asked respondents to rank levels of confusion about the direction of the telecom field (Figure 1). A score of 1 represented "totally confused," and a 10 represented "totally comfortable." Interestingly, on average, respondents see their supply chain partners on the more comfortable (7.6) end of the scale (Figure 2), while they consider their primary telecom vendors to be more confused (4.3).
Where are these vendors going, and what are they doing on the way there? "I may not fully understand their business plans, especially when it involves acquisitions," admits a CIO at a state agency. A CIO from an oil company was less forgiving. "I wish to God the vendors would talk to me before they spend billions on research that does absolutely nothing for me. They show up after the money has been spent and ask, 'Can you use one of these?'"
The Ambiguous Short Term
In 55 follow-up interviews, we discovered that practitioners and vendors aren't confused about where telecom is going over the long term. Respondents agree that we are heading into a totally interconnected existence where information in any format can be sent at low cost to anyone, anywhere, anytime.
The problem is the short-term future. The present is knowable; the distant future fairly certain. What concerns us is the unspecified in-between period of the next six to 36 months. How can we move from today's known capabilities to the promised land of future total connectivity?
CIO Joe Puglisi of EMCOR Group in Norwalk, Conn., has an answer. "Whatever you do, make sure that what you are doing currently is as cost-effective as possible," he says. EMCOR partnered with Destin, Fla.-based Telwares, a telecommunications industry specialist, and renegotiated its voice, data and wireless network costs. The result: "millions of dollars of annual savings," he says.
Puglisi notes that his IT staff also scouts for new technologies that will deliver more services at equal or lower cost. "We recently identified opportunities to further enhance the performance, security and value of our Internet links through special devices," he says. "We are conducting trials to determine the true characteristics of these devices and to demonstrate their full potential."
You don't have to be at the IT helm of a Fortune 500 enterprise like EMCOR to drive results through telecom innovation. The CIO of one Midwestern state seeks to deliver "more ubiquitous connectivity to extend channels and control" by providing multiprotocol label switching (MPLS) over a private network that offers VPN capability. Translation: More business can be done over the same fiber as the demand rises for services combining voice, video and data on a single network. This CIO is also investigating Wi-Fi and WiMax but has concerns about security. "We have insourced much of our trunking and utilize providers mainly for last-mile connectivity," he says.
This was first published in February 2006