Get Your House in Order
IAM technology has become more accessible to the midmarket, but it won't bring benefits unless a company's security infrastructure is in order. To work as advertised, IAM systems like Web access management, SSO and automated user provisioning need a consistent, synchronized set of IDs, user profiles and access rights.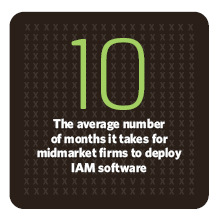 For example, "SSO is technically fairly easy to implement," notes BCBSKC's Sparks, but because it gives end users access to a wide range of resources with one login, it's imperative that IT get rid of security gaps and access-right anomalies like "orphan accounts" (i.e., the still-active access rights of departed employees).
Sparks' multiyear project involved diving deep into those considerations. Having just gone live with a full IAM platform, he is waiting to see how the investment pays off. "Our requirements in the marketplace were to find something that gives us peace of mind but also is not so onerous that people can't use the functionality of our Web site or our applications," he says. "IAM holds that promise: The jury is still out in terms of ROI, but we're keeping our fingers crossed."
Elizabeth Horwitt is a contributing writer based in Waban, Mass. Write to her at editor@ciodecisions.com.
This was first published in November 2006